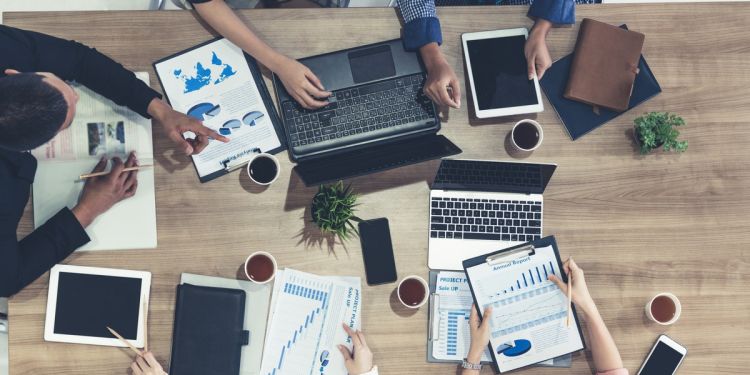 [Image Credit: online.hbs.edu]
1: Selling goods or services
It is one way to earn money online without creating original content.
This might apply to both tangible goods like handmade crafts or antiques as well as digital goods like ebooks or courses.
These goods can be sold on a website or through an online store, such as Etsy or eBay.
>> Check out 30 Passive Income Ideas.
2: Reselling business ​
As the name suggests, a reseller sources products from suppliers (manufacturers or wholesalers) and then sells them to the end consumers. Unlike a homegrown brand or label that sells its own products, resellers focus on selling ready-made products to their customers.
>> Future High-Demand Income Skills
3: Affiliate marketing:
Taking part in affiliate marketing is an additional choice.
This entails spreading the word about other people's goods in exchange for commissions on each sale you make.
You can accomplish this by writing blog entries or social media postings with links to the product.
>> Start now with the best high-commission affiliate networks.​
4: Sell advertising space to businesses:
If you have a sizable social media following or a well-read blog.
You may be able to do this. Without having to create a lot of content, this might be a wonderful method to monetize your online presence.
5: Make and sell online courses:
Making and selling online courses is another choice.
This might be a fantastic method to earn money while sharing your knowledge with others.
6: Offer consulting or coaching services:
If you have knowledge in a certain field, you might be able to do it online.
This may be a successful technique to make money off of your expertise.
If you have a flair for photography or videography, you might be able to sell your work as stock footage or photographs.
You may publish your work on a variety of websites and market it to both businesses and consumers.
If you have any other inquiries about earning money online, please let me know.
You may also like this:
I hope this blog helps you out.
If you have any queries related to this blog you can comment or dm me on Instagram.
Thank you.